HOOF STAR – PROFESSIONAL HOOF CARE SERVICES
Hoof Star offers safe, fast and effective hoof care & maintenance services in the Central North Island. Regular hoof trimming & maintenance prevents more serious, long term issues and keeps your herd healthy. Our fully managed service keeps your cows at top production all year round.
Hoof Star's range of preventative and corrective hoof trimming services are performed in our safe, mobile facility. Our mobile hydraulic cattle crush offers fast turnaround with minimal stress on the animal. Designed and built in Holland, our cattle crush is at the forefront of hoof care technology.
CLOUD BASED RECORDS FOR EASY ACCESS & SHARING
Consistent Records & Intelligent Reporting
We use industry leading software to ensure we communicate quickly, easily and transparently with farm management and other animal welfare professionals. An historical record of treatment, coupled with scheduled follow up work ensure the best in animal welfare and hoof health. Advanced reporting tools assist with identifying environmental factors that can negatively impact on hoof health.
Easy info sharing for vets
In most cases, our mobile cattle crush can simply setup next to your dairy shed.
Our trained technician can help identify & treat early signs of lameness, efficiently on the spot.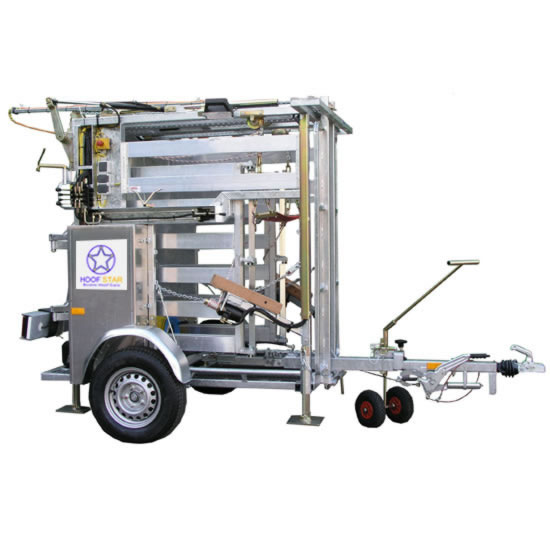 Our professional cattle crush is fully hydraulically operated. This allows us to treat large numbers of cows faster and with minimal physical effort. It's designed to be ultra mobile, stable and flexible and it can operated anywhere offering a standard 240v power supply.
Well-suited for both dairy cows and beef cattle, the integrated foot support blocks allows safe, speedy and efficient treatment of your stock. Contact Hoof Star today and make us part of your herd management plan.
"Alan knows what he's doing. He does 4 in the time it takes me to do one in the shed."
"Our empty rate went from 17% last season to 10% this season with the reduction in lame cows."
"Hoof star have taken a huge amount of stress, hassle, and cow wastage out of our system."
"Hoof Star has excellent service, supreme animal handling and is nice & quiet with the animals. We would recommend them to anyone"
See how HOOF STAR can compliment your workflow